Enter Registration Details
Follow the standard Registering with JNCTN process, however, if the Organisation is being registered for the first time you will notice that a checkbox displays that allows you to identify that you will be the Organisation Administrator. Ensure you select this checkbox.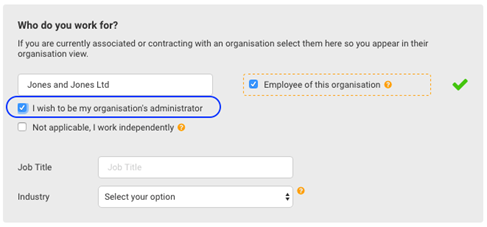 Approval for New Organisation
All new organisations require JNCTN approval. JNCTN will contact within two working days. This is to ensure you have the authority to register the company and to arrange payment terms.
Once your organisation is approved and payment terms agreed, you are assigned Organisation Administrator rights. These rights allow you to add new members, and manage credentials.
Want to see the difference between Member and Organisation Administrator views? Refer to Member and Organisation Administrator Views.
What's Next?
Once you've set up and your organisation has been approved, you're ready to go!
You can:
Complete your profile- add any outstanding contact information to your profile to ensure it is up to date.
Add your credentials- if you have your own credentials to add, you can do this now. Refer to Adding a New Credential.
Register new members- to save time, you can complete the initial registration for your members on their behalf. Refer to Registering your Organisation's Members.
Create credential templates for your organisation- you can begin to create credential templates for credentials owned by your organisation, making them available for your members to select. Refer to Creating a Credential Template.